INDUSTRY REPORT

Download the SANS Report:
"SANS 2019 OT/ICS Cybersecurity Survey & Whitepaper"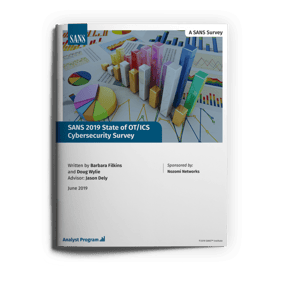 This report covers:
State of OT/ICS security in 2019

Levels of perceived cyber risk

Top threat vectors of concern

ICS security incident data

Security architecture trends and gaps

Security technologies in use and planned for adoption

SANS recommendations and conclusions
Complete the form and download the report now!
Nozomi Networks is proud to be a sponsor of the 2019 SANS ICS Survey.
---
Nozomi Networks' comments on the report:

"A growing reliance on cloud-based architectures and services reinforces the need for knowing what you have, where information is stored and exchanged, and even where the logic and control functions for the ICS reside.
A comprehensive inventory of system assets, especially industrial embedded devices, becomes even more difficult in light of more porous system boundaries and virtual assets, leading to blind spots as to where and how much risk affects the modern ICS."