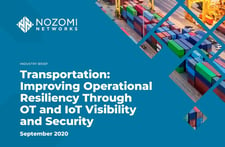 DOWNLOAD THE INDUSTRY BRIEF
Transportation: Improving Operational Resiliency Through OT and IoT Visibility and Security
Find out about:
Top Transportation Industry Challenges

Airports; Bus, Rail and Highways; Maritime

How the Nozomi Networks Solution Improves Resiliency and Cyber Defense

Use Case: Gaining Deeper Visibility into Multi-System Operations

Use case: Preventing Operational Disruption and Downtime

Use case: Understanding Where System Vulnerabilities Lie

Use case: Detecting Malware Before It Impacts OT/IoT Networks
---
Complete the form and download the Industry Brief.

"
Transportation system operators are rapidly embracing tools and technology to gain operational efficiencies. However, digitization and high levels of connectivity increase risk and expand the threat surface. This makes it challenging to quickly address operational disruptions and deflect cyber threats.
Fortunately, real-time OT/IoT visibility technology can be used to improve both availability and cyber resiliency, helping ensure the safety of transportation systems as they transform."