Download the white paper:
Advancing ICS Visibility and Cyber Security with the Nozomi Networks Solution
Read this document to learn how the Nozomi Networks solution: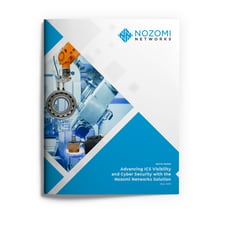 Improves

network

and

operational

visibility

for

ICS

Detects

ICS

cyber

and

process

risks

Facilitates

rapid

threat

response

Enables

enterprise-scale

OT

risk

monitoring

Uniquely provides superior visibility and threat detection
Complete the form and download the white paper.
You'll be on your way to improving your knowledge of ICS security solutions!


---

From the white paper:

"The Nozomi Networks solution improves reliability for industrial control systems. It does this by providing superior network and asset visibility and by rapidly identifying cyber security and process risks. It significantly reduces ICS monitoring and threat response efforts and results in improved availability and cyber resiliency."